You are free; you are free to go to your temples, you are free to go to your mosques or to any other place or worship in this State of Pakistan. You may belong to any religion or caste or creed that has nothing to do with the business of the State.
(An Excerpt from the landmark speech of Quaid-e-Azam Muhammad Ali Jinnah on Agust 11th, 1947 in the first constitutional assembly)
Quaid-e-Azam Muhammad Ali Jinnah was the first one who in his historic speech on August 11th, 1947 recognized the rights of non-Muslims as an equivalent and identical as it would be given to any other Muslim citizen in Pakistan.
In his landmark speech, Quaid gave a vision on which foundation of Pakistan should have laid. To appreciate and highlight the services and sacrifices of Pakistan's minorities in the creation and subsequently their contribution in nation building and prosperity of Pakistan, the national minority day is being celebrated today across the country on Saturday August 11, 2018.
Also Read: 11th August 1947 speech: A glimpse of Quaid s Pakistan
Despite the high proclamations, the big promises and the legislative attempts made to secure the right of minorities and their well being, still the strata is being suffered from discrimination, prejudices and bigotry. To highlight the issues of minorities in Pakistan, Centre for social Justice has organized an event.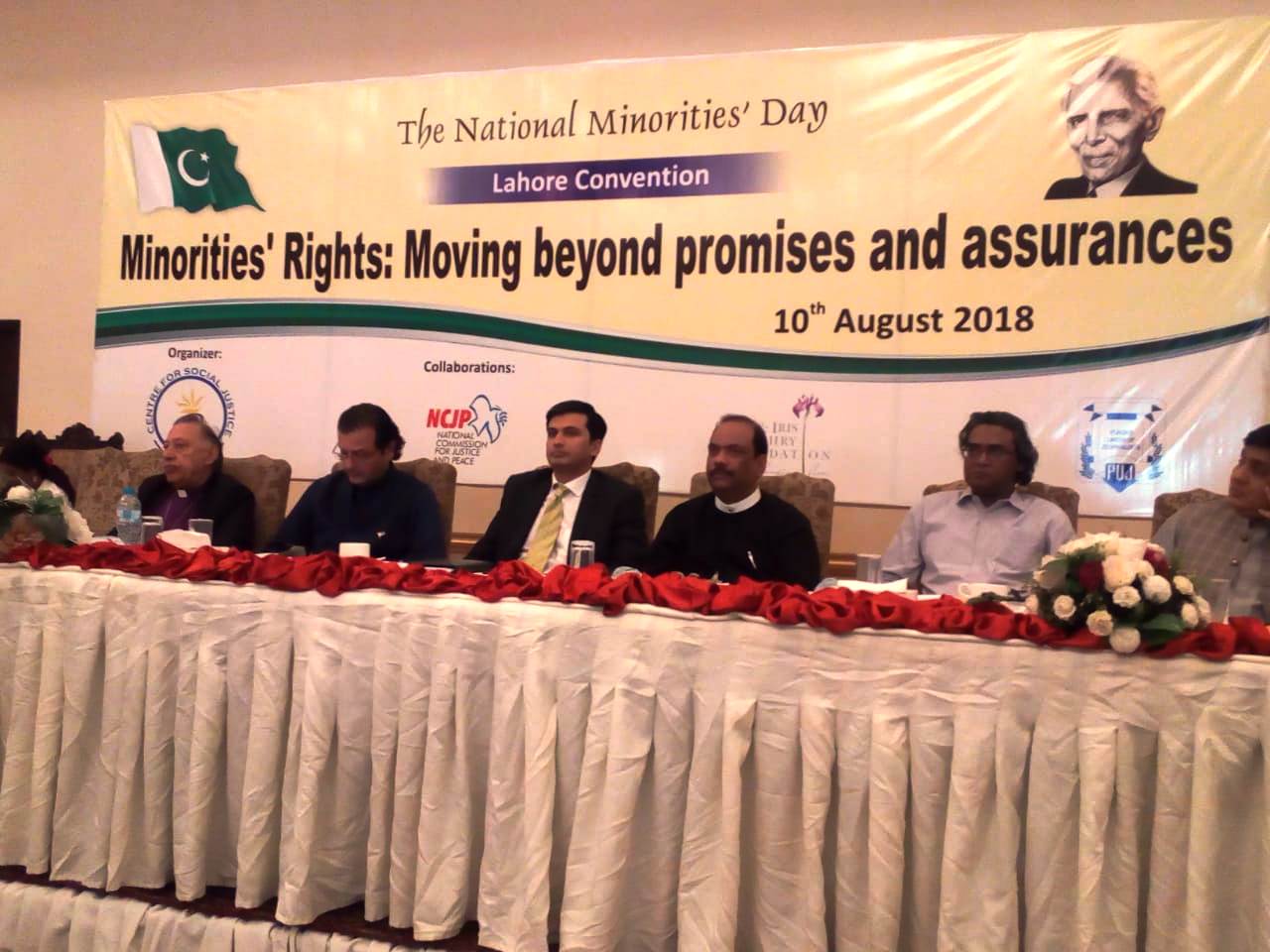 On National Minority Day, Center for Social Justice held a convention titled 'Minorities Rights: Moving beyond promises and assurances'.  Photo: Dunya Web
---
Acknowledging the fundamental rights enunciated in the Constitution of Pakistan and affirmative measures introduced by the Federal and Provincial governments to protect rights of religious minorities, the participants of the representative convention of minorities held in Lahore, unanimously reiterate that the message in the Quaid-e-Azam's speech need to be adopted as guiding document for formulation of laws and policies in the country.
The Lahore conventions demanded a national commission to safeguard the rights and well being of minorities in Pakistan.
The participants resolve to foster alliances for tackling challenges faced by Pakistan such as; religious and social intolerance, discrimination, nepotism, corruption and lack of respect for rule of law. We call upon the concerned organs of the Federal and Provincial governments to take following measures:
1. Muhammad Ali Jinnah's speech on 11 August 1947 must be included in the constitution of Pakistan to accord this speech a statutory status.
2. A law should be passed that provides a definition, grounds for prosecution and punishment for acts of discrimination, particularly on the basis of religion and belief, to effectively implement freedoms and equality guaranteed in articles 20 and 25 of the constitution.
3. Provisions of the constitution of Pakistan e.g. Article 41(2), Article 91 (3), Article 203 that are incompatible with fundamental rights given in the constitution should be amended to remove conceptual inconsistencies about equality of rights among citizens.
4. The judgment of the Supreme Court of Pakistan delivered on 19 June 2014 should be implemented in letter and spirit, particularly the following measures:
i. Committees at federal and provincial levels must be set up to ensure effective implementation of the aforementioned judgment.
ii. A policy, strategy and plan of action to promote religious and social tolerance, must be introduced.
iii. The education policy and textbooks for educational institutions must be reviewed to remove discrimination based on religion and to make formal education an instrument of promoting diversity and social harmony. In this view, we reject the draft education policy 2017 for lack of consideration to safeguards in article 22 as well as article 20 of the constitution of Pakistan.
iv. A regulatory body through enactment must be instituted for proper implementation of job quota reserved for religious minorities. This authority should be equipped with adequate powers, resources and procedures for a referral and redressal mechanism against any grievances.
v. An autonomous and independent statutory National Council/ commission for Minorities must be constituted with a mandate to monitor the implementation of rights of minorities, to oversee policies and give advice on policy matters.
5. The Christian Marriage and Divorce Acts should be amended to make them comply with human rights standards. Moreover, a common civil code for marriages in communities such as; Baha'is, Parsis and Kalash should be enacted to regulate their matrimonial affairs.
6. The students belonging to minority religions should be allowed to study their respective religions as alternative to Islamiat, moreover a quota should be introduced for admission in education institutions for the students belonging to religious minorities.
7. An empowered implementation committee should be set up to give effect to the recommendations of the Judicial Inquiry of the incident of Gojra in 2009.
The convention on national minorities' day was attended by representatives of civil society organizations and the political parties and was organized by Centre for Social Justice (CSJ) in collaboration with National Commission for Justice and Peace (NCJP) and Cecil & Iris Chaudhry Foundation (CICF).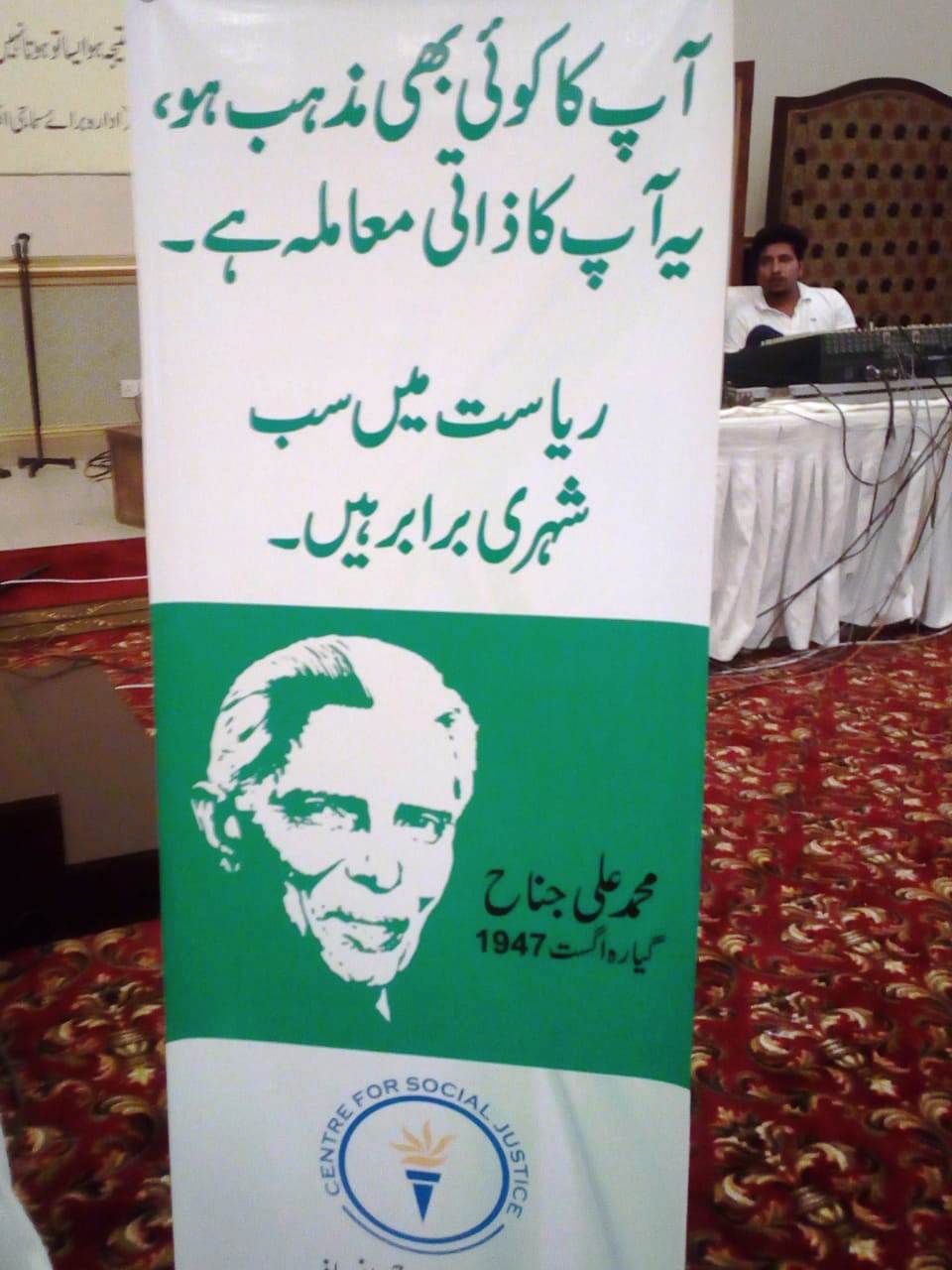 An standee featuring Quaid s famous quote about the rights of minorities. Photo: Dunya Web
---
Well-known representative of Christian community in Pakistan and a social activist Bishop Alexander John while speaking to the assembly said that the minorities' communities of Pakistan love their country. Their forefathers had made sacrifices in the creations and establishment of Pakistan. They resist and oppose any forces working against the interests of Pakistan. The non-Muslim communities of Pakistan should be given their constitutional rights.
Also Read: Prominent members of minorities and their role in Pakistani politics
Other prominent participants spoke to the convention were Col. Mubashir Javed from Pakistan Muslim League N, Pakistan Tehreek-e-Insaf's Waleed Iqbal, Aijaz Chaudhary, Naveed Aamir jeewa and Barrister Amir from Pakistan Peoples Party, Ameerul Azeem secretary information of Jamat-e-Islami, Sikh social activist and educationist Prof. Kalyan Singh, Law expert Saqib Jillani and notable journalists like Wajahat masood, Aamir Sohail and Azam Caudhary, Netherland's Deputy head of Mission Josephine Frantzen and many more.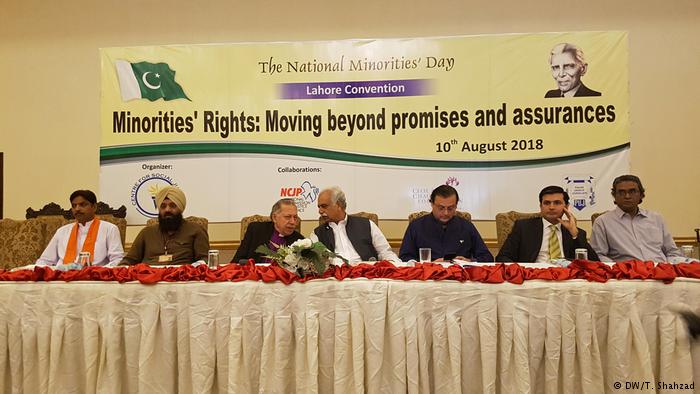 The convention was atteded by prominent political and social figures. Photo: DW
---
Chairman Center for Social Justice Wahajat masood while talking to Dunya Web said that we appreciate the government's move to celebrate the minorities day to attain the vision of Quaid-e-Azam but this should be celebrated as 'citizen's day' rather 'minorities day'. We invited personalities from different walks of life including politicians, journalists, educationists and social activists to promote the democratic discourse through all platforms. Minorities rights are not to exhibit only rather connected to the democratic merit of Pakistan. Pakistan cannot become a progressive, prosperous and advance until and unless this discriminatory approach vanishes from our social and political behaviors.
---
While speaking with Dunya Web on Minorities Day, Pakistan people's Party leader Barrister Aamir  Hassan said that in the leadership of chairman Bilawal Bhutto Zardari, PPP vows to build Pakistan free of discrimination and prejudice. PPP is committed to pave the way for an enlightened, progressive and prosperous Pakistan promoting interfaith harmony and freedom of speech,
---
Pakistan Tehreek-e-Insaf leader Waleed Iqbal said Minorities Day is a promise to Quaid e Azam's speech in which he said that every citizen is equal for state. Minorities day is the novation of Quaid's message and the securities granted to the citizens of Pakistan in Objective Resolution of 1949 which further were ensured in the Constitution of Pakistan 1973.It is written specifically in its Article 2A and its annex that minorities should be protected at all costs and they have the right to practice their religion with great freedom. He further said in his speech that our government is about to be formed very soon and these are all the promises we have made and will work hard to fulfill them.
---
On Aug 11, we as nations should reiterate the commitments to follow the vision of Quaid-e-Azam Muhammad Ali Jinnah for an enlightened, liberal, progressive and tolerant Pakistan. The celebration of minority day provides us an opportunity to reassure that despite belonging to different faiths we are one nation that continues to march for united and prosperous Pakistan.